Between the freezing temperatures and lack of sun, Chicago is feeling pretty gloomy this week.
The city has broken multiple weather records this week with temperatures as low as 10 °F, unprecedented for this time of year. Luckily, the cold weather is supposed to lift later this week and next, but only for so long. Dec's chilly weather is just around the corner. Here are 10 ways to keep warm during Chicago's frankly rude weather.
1. Get yourself a heated blanket.
View this post on Instagram
If you're getting the night-time chills (or your office is freakishly cold), a heated blanket is the perfect cozy accessory. Prices vary, but you can usually pick one up for around $25 at Target or on Amazon.
2. Put your gloves on before your coat.
Gloves aren't really for making your hands warm; they're for keeping them warm once you go outside. If you put your gloves on before your winter coat, it traps that heat inside and creates a seal between your glove and sleeve.
3. Layers, layers, layers.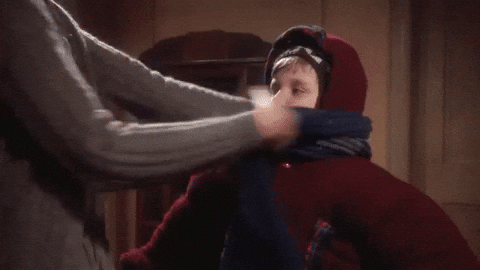 This is pretty basic advice, but it makes a major difference. Temperatures can change drastically depending on where you are during the day. It's cold outside, sure, but during your hour-long commute, all those bodies heat up the train car fast. Hopefully, when you get to the office it's a reasonable temperature, but it could also be freezing. Prepare for multiple temperatures throughout the day by layering clothing you can add on or take off for maximum coziness.
4. Be active!
View this post on Instagram

Exercise not only warms up your body, it releases endorphins that make you feel better too! With a the lack of sun Chicago has been getting lately, keeping your mood up is just as important as raising your body temperature. Take a yoga class or run up and down the stairs at work to get your heart pumping and your temperature rising.
5. Make more homecooked meals.
Nothing warms a home up like a piping hot oven. It might be tempting to order out on a cold day, but save yourself some cash (and a poor delivery driver the cold) by cooking something delicious. The hot oven will warm up your home and your scrumptious meal will warm your heart.
6. Draw yourself a luxurious, hot bath.
View this post on Instagram
A warm bubble bath always does the trick after a bitterly cold commute home. Turn on your favorite podcast, lay back and let the hot water wash away your winter blues. So relaxing.
7. Buy a light therapy lamp.
View this post on Instagram
Okay, so this won't keep you warm perse, but if you have Seasonal Affective Disorder (SAD) or just find Chicago weather gloomy, light therapy might be a good option. Theses lamps use bright lights to simulate the sun and affect your circadian rhythm, which tricks your brain into thinking it's sunny even if it's cloudy out. Neat, right?
8. Snuggle up with a loved one.
View this post on Instagram
Grab a cuddle-buddy to brave the cold together. Snuggling with a significant other, family member, or even a furry friend not only keeps both of you warm, it releases serotonin, too; another weapon against the winter blues!
9. Make yourself a warm cup of tea.
View this post on Instagram
Drinking something warm can help you battle the elements. Tea is our editor's absolute favorite beverage. It's warm, delicious, and caffeine-versatile. If tea isn't your thing, though, make a Starbucks pit stop on your way to work or whip up a cup of hot chocolate at home.
10. Light a candle… or several.
View this post on Instagram
A single candle isn't going to do much to actually warm you up, but they're essential to any cozy evening. Consider putting a candle on the ledge of your hot bath or attending a candlelight event for hygge ambiance. Just make sure you don't leave them burning after you leave the room. Fire safety is important, folks!
What's your favorite way to keep warm during Chicago winters? Tag us on Instagram @secret.chicago to let us know.
Feature image by Shutterstock.
---