After a successful run in 2021, the popular Dining in the Dark tasting experience is coming back to Chicago with a whole new narrative.
The mysterious secret society is back at their residence in the 312 and quietly await your attendance in total darkness. Combining a new mysterious plot and more culinary prowess, this enthralling dinner party is unlike any other and now each experience will come with a 5-course tasting menu and a welcome drink!
A masked and mysterious amalgamation of characters known as The Secret Society will welcome you into their fold and lead you to your table. As you attempt to analyze the surrounding ominous room it will suddenly be shrouded in darkness. You'll be left with only your remaining four senses to guide you while you progress through mouth-watering dishes.
Limited tickets are now on sale — Make sure to grab yours here! 
Eminent psychologists have been advocating dining in the dark as an amplified way to enjoy food in all of its flavor for years. At this unique sensory dining experience, you will be treated to a surprise 5-course meal tasting menu to be enjoyed in the pitch-black darkness. This new and tantalizing menu will have you exploring the textures and flavors of haute cuisine for an experience that will leave your taste buds tingling.
There will be a variety of menu options including vegan options that cater to dietary considerations, should you have any. The mysterious yet charming crew will help guide you through this culinary journey in the dark. Beware though, there is more to this evening than an enhanced dining experience.
Having tasted the cutting-edge cuisine, you will begin to feel a sense of belonging with your fellow diners. The experience is about to get even more enthralling as you are welcomed into The Secret Society provided you pass the required rituals.
This is far from the mundane dining experience you're used to with the mystery and the food tantalizing in equal measure. Dress smart and pay attention, because you're in for an induction like you've never seen before.
'Dining In The Dark' has received some rave reviews from attendees who have experienced the event in cities around the world.
Mariah C. – 
"This Experience left us speechless it was AMAZING !!!!! We were so thrilled this event was our first time ever trying this. Beautiful ambiance and a lot of detail. I will make sure to spread the good word around to be a part of this event!!!!! Thank you!" 
John. M – 
 "Loved the three-course meal, the entertainment was awesome, the staff was very helpful and professional. The covid 19 procedures were up-to-date. Thanks for a wonderful time, looking forward to coming back again."
Dining in the Dark with The Secret Society will this time around offer a 5-course tasting menu with a welcome drink! Patrons must be 21 years of age or older and are encouraged to come dressed in cocktail attire. Limited tickets are now on sale so make sure to grab yours before they're gone!
Are you willing to take a shot in the dark? Book your tickets here.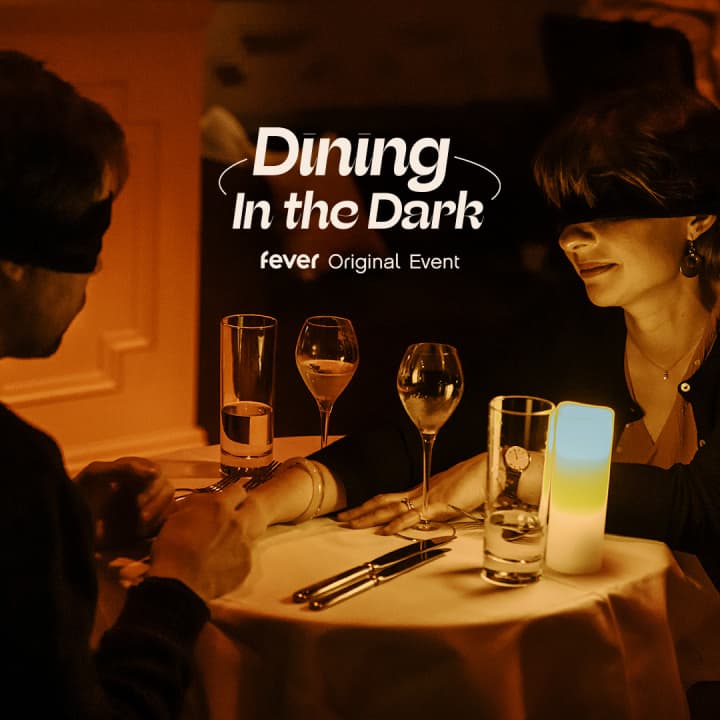 Dining in the Dark with Wine Pairing: A Unique Blindfolded Dining Experience
---